SYI's Public Debriefing on Immigration Policy (DEC 2)
Posted on: 2018年 11月 10日
SYI's Public Debriefing 2018: Japanese Immigration Control Policy as FALSE "No Admission of Immigrants" and FALSE Asylum Policy
December 2, 2018, 14:00-16:30 (open at 13:30)
Mansei-Bashi Hall, 3rd Fl.
Reports: Tight Immigration Policy and Detention, Debates on the Amendment of Immigration Act, SYI's Activities
Lecture: What is at Stake in Ali Ayıldız' Lawsuit against Immigration Bureau? By Takeshi Ohashi, Attorney for Ali
Speeches of Former Detainees and Activists
Although a bill to amend the Immigration Control Act is currently a controversial topic, only few focus on the abuses repeated every day at the heart of present immigration control system.
Japan actually admits a large number of workers from abroad, but as disposable laborers like "trainees" "students" or irregular immigrants whose rights are strictly limited. Japan recognizes less than 1 per cent of asylum applicants in spite of its participation in UN Refugee Convention. It is Japan that DISGUISES the real face of Japanese immigration control system, as to be shown in our report on immigration detention this year.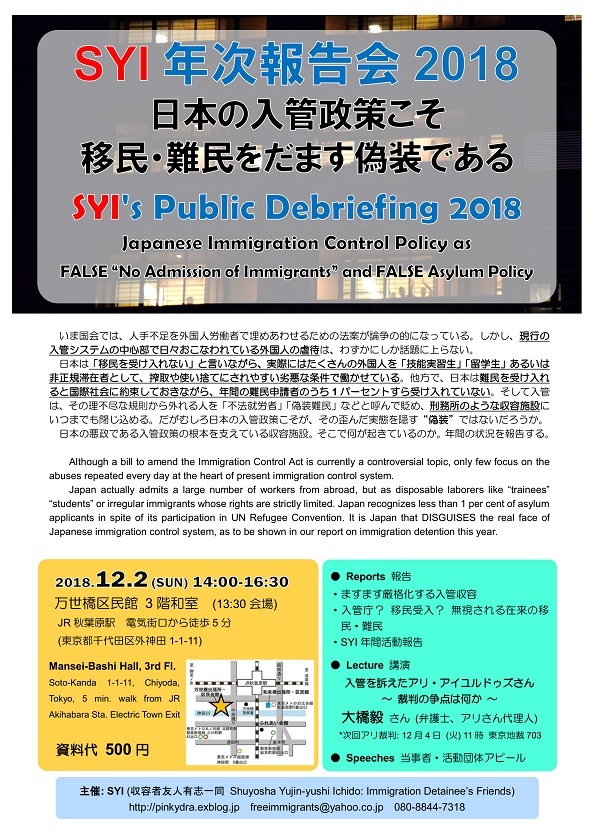 SYI(収容者友人有志一同 Shuyosha Yujin-yushi Ichido: Immigration Detainee's Friends)
http://pinkydra.exblog.jp freeimmigrants@yahoo.co.jp 080-8844-7318
Tweet

by p-dragon | 2018-11-10 18:11 | アクション・イベント