[Conference] Accusing Human Right Abuses by the Immigration Bureau of Japan (10 Dec)
Posted on: 2017年 12月 01日
SYI's Public Debriefing 2017:
Accusing Human Right Abuses by the Immigration Bureau of Japan
2017.12.10 (Sun), 13:30 (open), 14:00 (start)

3rd Floor of
Izumibashi Hall
(Kanda Sakumacho 1-11, Chiyoda-ku, Tokyo), 5 minute walk from Akihabara sta. (JR Line or Metro)
Lecture: The Case of Massamba, a Congolese Refugee (by Prof. Shintaro Namioka, Meiji Gakuin University).

Reports on Immigration Detention in 2017: food sanitation, medical problems, detained asylum seekers, Vietnamese detainees.

Speeches by ex-detainees, refugees and activists.

Protest at Tokyo Immigration Bureau on 2017.12.11, from 13:00 in front of Tokyo Immigration Bureau bldg. (Konan 5-5-30, Minato-ku, Bus: Terminal No. 8 of Konan exit, JR Shinagawa sta.).

We, SYI, are a voluntary association in Tokyo opposing to Japanese immigration policy, especially to immigration detention.
The Immigration Bureau of Japan, a department of the Ministry of Justice, totally abuses basic rights of undocumented immigrants. Even when a detainee dies because of its wrong treatments, it never takes responsibility.
Dec. 10 is the day UN determines as World Human Rights Day, and the MOJ promotes public awareness of human right. However, it is the MOJ and the Immigration Bureau that violates basic rights of immigrants.
On this day, we have a public debriefing in order to report our activities and the problems made clear concerning Japanese immigration policy.
SYI: Shuyosha Yujin Yushi Ichido (Immigration Detainee's Friends)
http://pinkydra.exblog.jp
freeimmigrants@yahoo.co.jp
080-8844-7318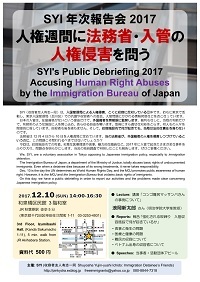 Tweet

by p-dragon | 2017-12-01 18:35 | アクション・イベント